About Doctor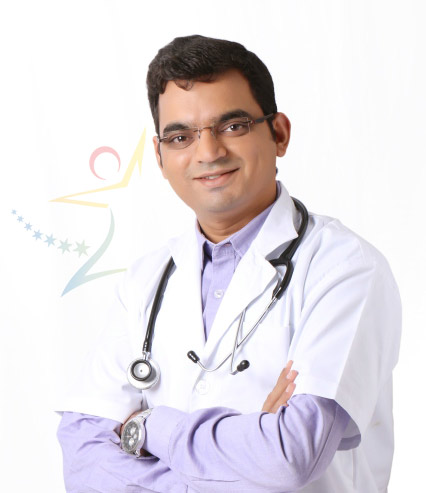 Dr. Mihir Patel
M.B.B.S., M.D. (Pediatrics)
Chief Pediatrician & Intensivist
Fellowship in Pediatric Critical Care (IFPCCM)
QUALIFICATIONS
MBBS: February 2006
M.D. (PEDIATRICS): May 2011
Indian Fellowship of Pediatric critical care Medicine (IFPCCM), 2 year's course from Rainbow Children Hospital, Hyderabad.
DISTINCTIONS AND ACHIEVMENTS
Awarded with "IJP BEST THESIS 2010" for the thesis entitled "To Compare the Effect of Human Milk Fortification with Human Milk Fortifier Versus Preterm Formula in Growth of Very Low Birth Weight Preterm Babies " on the occasion of IV Dr. K.C. Chaudhuri Oration at AIIMS, New Delhi in October 2011.
PROFESSIONAL EXPERIENCE
- From April 2008 to July 2011: Resident in pediatric department, SMIMER
- From July 2011 to December 2011: Senior resident in rainbow children hospital, Hyderabad
- From December 2011 to December 2013: Fellow in pediatric critical care, Rainbow Children hospital, Hyderabad
- From December 2013 to February 2014: Associate consultant, rainbow children hospital, Hyderabad
- From February 2014 till now: chief Intensivist at neoplusICU, Surat